Resolving Conflicts
with Difficult People
16 May 2019, 9.00am – 5.30pm
This workshop is designed to help participants apply appropriate strategies and employ communication skills to manage difficult people in their work and social life. Participants will learn to identify types of difficult people, analyse their intentions and adopt the right actions in order to bring out the best in people at their worst. They will also learn how to build relationships and use positive words and actions to enhance their interactions with difficult people.
Objectives and Benefits
To learn how to identify types of difficult people and understand their intentions
To learn how to apply the right communication strategies to manage difficult people
Highlights
Strategies for handling types of difficult people
Identifying good intentions in bad behaviour
Effective communication skills for success with difficult people
Identifying our own difficult behaviour and learning how to overcome it
Methodology
Presentation
Group discussions and presentations
Questionnaires/self-evaluation
Video presentation and discussion of learning points
Personal sharing of situations faced and solutions employed
Group presentation of solutions
Who Should Attend
Administrative staff
Corporate Communication staff
Customer Service staff
Employee Communication staff
Finance staff
Financial/Investor Relations staff
Frontline Service staff
Human Resources staff
Marketing Communications staff
Media Relations staff
Public Relations staff
Public Affairs staff
Research & Marketing staff
Course Outline
Understanding types of difficult people
Strategies for handling difficult people
Passive, aggressive and assertive reactions
Good intentions that influence bad behaviour
Task focus and people focus approaches to work
Blending and redirecting skills in handling difficult behaviour
Verbal, vocal and visual elements of effective communication
Video presentation on enhancing relationships 'Whale Done'
Specific solutions for specific behaviours
Self-analysis – Putting a mirror to ourselves and identifying our weaknesses
Summary and question and answer session
Trainer's Profile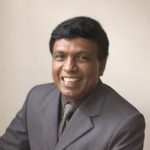 James Suresh
James Suresh is a corporate trainer with Fortress Intelligence, PR consultant and bestselling author. The co-creator of S ingapore's comic icon 'Mr. Kiasu', he has also co-written a series of comic books as well as authored books on his military career. He develops comic strips for magazines and scripts for multi-media productions. His recent book 'On a Street in Singapore' has won two awards, namely the Sunday Times Best Seller and Reader's Choice Award. He also authored a book about Singapore in the 60s, which was endorsed by MCCY – SG50 and distributed to all schools in Singapore.
James started his career as an army officer and eventually moved into public relations. Following his 15 year stint in the army, he set up a publishing and design company. After five years in the publishing business, James went on to pursue his interest in training and PR Consulting. He is a certified EQ trainer with 'Six Seconds Inc' based in the US. An accredited PR Practitioner and an NIE certified teacher. James is also and NLP practitioner.
James is a member of the editorial board for the Army News. He is a kindness ambassador for the Singapore Kindness movement. In his spare time, he volunteers as a youth advisor and community leader.
Testimonials
Very knowledgeable, experienced trainer.
Aminah Hassan
, Personal Assistant, Agri-Food & Veterinary Authority
Good tips and likely to use in working life.
Salina Md Said
, Personal Assistant, Ministry of Health
James is very engaging and the contents were made more interesting & relatable by the use of stories. Good!
Gioanna Ng
, Trade Officer, Singapore Customs
James is an excellent trainer. Excellent tips for real life office environment.
Victor Lim Chin Leong
, Executive (HR & Payroll), TMF Singapore H Pte Ltd
Well spoken and organised. I'm impressed & I learnt a lot from him.
Jacqueline Anicoche
, IT Analyst, Unilever Asia Pte Ltd
Register Now
Early Bird Fee: S$481.50
(until 28 March 2019)
Regular Fee: S$529.65
All fees include 7% GST, documentation, refreshments & lunch